Windmill Cables
Y 0.6/1kV UL/CSA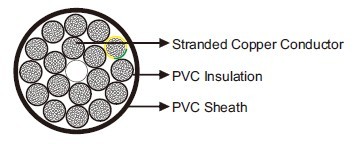 Application
These cables are designed for flexible use for medium mechanical stresses as measuring and control cables in tool machines, conveyor belts, production lines; for plant installations, air conditioning, in steel production plants and rolling mills, suitable for dry, moist and wet rooms as well as outside (fixed installation).
Standards
VDE 0276 part 627
DIN VDE 0281 part 13
UL 758
IEC 60502
Construction
Conductor: Stranded bare copper, class 5 according to DIN VDE 0295/IEC60228.
Insulation: Special PVC type TI2 according to DIN VDE 0281 part 1, class 43 UL-Std. 1581.
Sheath: Special PVC.
Technical Data
| | |
| --- | --- |
| Rated Voltage Uo/U (Um) | 600/1000V |
| Operating Temperatures | flexing: -5℃~+80℃; fixed: -40℃~+80℃ |
| Minimum Bending Radius | flexing: 7.5×OD; fixed: 4×OD |
| Flame Retardant | VDE 0482-332-1-2/DIN EN 60332-1-2/IEC 60332-1/VW1/FT1 |
| Oil Resistant | Yes |
| Silicone Free | Yes |
| UV Resistant | Yes |
Dimensions and Weight
| | | |
| --- | --- | --- |
| Construction | Nominal Overall Diameter | Nominal Weight |
| No. of cores×mm² | mm | kg/km |
| 2×0.5 | 6.4 | 56 |
| 3G0.5 | 6.8 | 68 |
| 4G0.5 | 7.6 | 100 |
| 5G0.5 | 8.2 | 117 |
| 7G0.5 | 9.8 | 138 |
| 12G0.5 | 12.2 | 200 |
| 18G0.5 | 14.4 | 276 |
| 25G0.5 | 17.2 | 335 |
| 2×0.75 | 6.8 | 66 |
| 3G0.75 | 7.2 | 74 |
| 4G0.75 | 8.0 | 126 |
| 5G0.75 | 8.8 | 140 |
| 7G0.75 | 10.7 | 190 |
| 12G0.75 | 13.1 | 257 |
| 18G0.75 | 15.6 | 362 |
| 25G0.75 | 18.9 | 486 |
| 2×1 | 7.4 | 80 |
| 3G1 | 8.0 | 96 |
| 4G1 | 8.8 | 100 |
| 5G1 | 9.8 | 130 |
| 7G1 | 11.7 | 170 |
| 12G1 | 14.5 | 290 |
| 18G1 | 17.3 | 405 |
| 25G1 | 21.1 | 570 |
| 2×1.5 | 8.4 | 95 |
| 3G1.5 | 9.1 | 112 |
| 4G1.5 | 9.9 | 139 |
| 5G1.5 | 11.0 | 170 |
| 7G1.5 | 13.3 | 225 |
| 12G1.5 | 16.6 | 370 |
| 18G1.5 | 19.7 | 520 |
| 25G1.5 | 23.9 | 730 |
| 2×2.5 | 9.4 | 160 |
| 3G2.5 | 9.9 | 175 |
| 4G2.5 | 11.1 | 203 |
| 5G2.5 | 12.4 | 251 |
| 7G2.5 | 15.0 | 330 |
| 12G2.5 | 18.4 | 553 |
| 18G2.5 | 22.0 | 795 |
| 25G2.5 | 26.9 | 1110 |
| 2×4 | 11.4 | 180 |
| 3G4 | 12.3 | 230 |
| 4G4 | 13.8 | 310 |
| 5G4 | 15.3 | 410 |
| 7G4 | 16.8 | 540 |
| 12G4 | 22.9 | 860 |
| 3G6 | 14.1 | 370 |
| 4G6 | 15.6 | 430 |
| 5G6 | 17.3 | 650 |
| 7G6 | 19.3 | 860 |
| 3G10 | 16.5 | 660 |
| 4G10 | 18.4 | 790 |
| 5G10 | 20.5 | 960 |
| 7G10 | 22.5 | 1300 |
| 3G16 | 19.6 | 760 |
| 4G16 | 21.7 | 1100 |
| 5G16 | 24.2 | 1600 |
| 7G16 | 25.7 | 1890 |
| 3G25 | 24.0 | 1450 |
| 4G25 | 26.9 | 1600 |
| 5G25 | 29.3 | 2050 |
| 7G25 | 32.6 | 2900 |
G: with green-yellow earth core
×: without green-yellow earth core