Windmill Cables
NAYY 0.6/1kV Power/Control Cable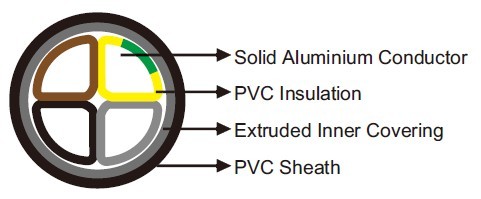 Application
These cables are designed for power lines of fixed routing in wind tower installation, also used as energy supply cables installed in underground, water, cable ducts, power stations, outdoors, indoors, for industry and distribution boards as well as in subscriber networks, where mechanical damages are not expected.
Standards
IEC 60502-1
DIN VDE 0276 part 603
Construction
Conductor: Solid aluminium wires, round or sector shape according to VDE 0295/IEC 60228.
Insulation: PVC.
Inner Covering: Extruded inner covering.
Sheath: PVC.
Technical Data
| | |
| --- | --- |
| Rated Voltage Uo/U (Um) | 0.6/1kV |
| Operating Temperatures | flexing: -5℃~+50℃; fixed: -40℃~+70℃ |
| Minimum Bending Radius | 12×OD |
| Maximum Permissible Tensile Load | 30N/mm² |
| Short-circuit Temperature | 160℃ |
| Flame Retardant | VDE 0482-332-1-2/DIN EN 60332-1-2/IEC 60332-1 |
| Silicone Free | Yes |
Dimensions and Weight
| | | |
| --- | --- | --- |
| Construction | Nominal Overall Diameter | Nominal Weight |
| No. of cores×mm² | mm | kg/km |
| 1×25 re | 13.0 | 200 |
| 1×50 rm | 16.5 | 310 |
| 1×70 rm | 18.5 | 400 |
| 1×95 rm | 21.0 | 520 |
| 1×120 rm | 22.5 | 600 |
| 1×150 rm | 23.5 | 700 |
| 1×185 rm | 25.5 | 870 |
| 1×240 rm | 28.5 | 1090 |
| 1×300 rm | 31.5 | 1335 |
| 1×400 rm | 35.5 | 1685 |
| 1×500 rm | 39.0 | 2075 |
| 1×630 rm | 43.0 | 2540 |
| 4×25 re | 27.0 | 1000 |
| 4×35 re | 29.0 | 1200 |
| 4×50 se | 30.5 | 1350 |
| 4×70 se | 34.5 | 1750 |
| 4×120 se | 42.5 | 2630 |
| 4×150 se | 45.5 | 3000 |
| 4×185 se | 50.5 | 3780 |
| 4×240 se | 54.0 | 4740 |
| 4G25 re | 27.0 | 1000 |
| 4G35 re | 29.0 | 1200 |
| 4G50 se | 30.5 | 1350 |
| 4G70 se | 34.5 | 1750 |
| 4G95 se | 38.5 | 2250 |
| 4G120 se | 42.5 | 2750 |
| 4G150 se | 45.5 | 3200 |
| 4G185 se | 50.5 | 3950 |
| 4G240 se | 54.0 | 4700 |
| 4G240 sm | 55.5 | 4960 |
| 4G150 se+1×1.5 re | 45.5 | 3010 |
| 4G150 se+2×1.5 re | 45.5 | 3020 |
G: with green-yellow earth core
×: without green-yellow earth core