Windmill Cables
NA2XH 0.6/1kV LSOH Power Cable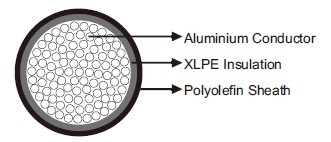 Application
These cables are designed for energy supply in tower, suitable for outdoors, in concrete, indoors and in cable ducts where no mechanical damage is to be expected.
Standards
DIN VDE 0276 part 604
Construction
Conductor: Sector-shaped solid or round solid/stranded aluminium wire.
Insulation: Cross-linked polyethylene (XLPE).
Filling: Extruded halogen-free filling compound.
Sheath: Polyolefin, Type HM4. PVC sheath can be offered upon request (NA2XY).
Technical Data
| | |
| --- | --- |
| Rated Voltage Uo/U (Um) | 0.6/1kV |
| Operating Temperatures | -40℃~+ 90℃ |
| Minimum Bending Radius | 15×OD |
| Short-circuit Temperature | 250℃ |
| Flame Retardant | DIN VDE 0482 Part 266-2/BS 4066 Part 3/EN 50266-2/IEC 60332-1 |
| Halogen Free | DIN VDE 0482 Part 267/EN 50267-2-1/IEC 60754 |
| Corrosive Gases | VDE 0482 Part 267/DIN EN 50267-2-2/IEC 60754 |
| Smoke Density | DIN VDE 0482 Part 268/HD 606/EN 50268-12/IEC 61034 |
Dimensions and Weight
| | | |
| --- | --- | --- |
| Construction | Nominal Overall Diameter | Nominal Weight |
| No. of cores×mm² | mm | kg/km |
| 1×95 | 18.0 | 405 |
| 1×120 | 19.5 | 490 |
| 1×150 | 20.5 | 580 |
| 1×185 | 22.5 | 700 |
| 1×240 | 25.0 | 880 |
| 1×300 | 27.5 | 1080 |
| 1×400 | 30.5 | 1370 |
| 1×500 | 34.5 | 1760 |
| 1×630 | 38.5 | 2200 |
| 3×95 | 31.0 | 1300 |
| 3×120 | 34.5 | 1620 |
| 3×150 | 37.5 | 1930 |
| 3×185 | 41.0 | 2380 |
| 3×240 | 45.0 | 2970 |
| 4G35 | 26.0 | 890 |
| 4G50 | 27.5 | 1030 |
| 4G70 | 31.5 | 1350 |
| 4G95 | 34.5 | 1710 |
| 4G120 | 38.5 | 2120 |
| 4G150 | 43.5 | 2600 |
| 4G185 | 46.5 | 3160 |
| 4G240 | 50.5 | 3950 |
G: with green-yellow earth core
×: without green-yellow earth core