Windmill Cables
H05VV5-F 300/500V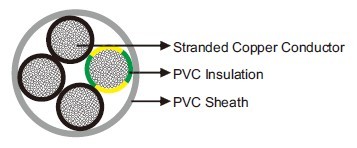 Application
These cables are used as supply or interconnecting cables for measuring, controlling and regulating for light and medium mechanical stresses.
Standards
HD 21.13 S1
DIN VDE 0281 Part. 13/5/96
Construction
Conductor: Stranded bare copper, class 5/class 6 according to IEC 60228.
Insulation: PVC Type YI 4.
Sheath: PVC oil resistant Type YM 5.
Technical Data
| | |
| --- | --- |
| Rated Voltage Uo/U (Um) | 300/500 V |
| Operating Temperatures | flexing: -15℃~+80℃; fixed: -40℃~+80℃ |
| Minimum Bending Radius | flexing: 10×OD; fixed: 6×OD |
| Flame Retardant | IEC 60332-1 |
| Oil Resistant | Yes |
| Ozone Resistant | Yes |
| Silicone Free | Yes |
Dimensions and Weight
| | | |
| --- | --- | --- |
| Construction | Nominal Overall Diameter | Nominal Weight |
| No. of cores×mm² | mm | kg/km |
| 3G0.75 | 6.5 | 57 |
| 4G0.75 | 7.0 | 70 |
| 5G0.75 | 7.8 | 89 |
| 7G0.75 | 9.4 | 130 |
| 12G0.75 | 11.5 | 174 |
| 18G0.75 | 13.8 | 259 |
| 25G0.75 | 16.8 | 362 |
| 41G0.75 | 21.5 | 602 |
| 50G0.75 | 23.6 | 723 |
| 2×1 | 6.2 | 54 |
| 3G1 | 6.7 | 66 |
| 4G1 | 7.5 | 82 |
| 5G1 | 8.0 | 105 |
| 7G1 | 9.6 | 149 |
| 12G1 | 12.3 | 210 |
| 14G1 | 13.9 | 267 |
| 18G1 | 14.4 | 302 |
| 25G1 | 17.5 | 418 |
| 34G1 | 21.4 | 622 |
| 2×1.5 | 7.7 | 75 |
| 3G1.5 | 7.9 | 93 |
| 4G1.5 | 8.9 | 117 |
| 5G1.5 | 10.3 | 143 |
| 7G1.5 | 11.9 | 220 |
| 12G1.5 | 14.3 | 292 |
| 18G1.5 | 17.2 | 435 |
| 25G1.5 | 21.2 | 620 |
| 34G1.5 | 24.5 | 842 |
| 50G1.5 | 30.3 | 1305 |
| 3G2.5 | 9.4 | 144 |
| 4G2.5 | 10.8 | 180 |
| 5G2.5 | 11.8 | 229 |
| 7G2.5 | 14.0 | 300 |
| 12G2.5 | 17.3 | 453 |
| 18G2.5 | 20.5 | 684 |
| 25G2.5 | 25.5 | 943 |
G: with yellow/green earth core
×: without yellow/green earth core