Windmill Cables
H05BQ-F/H07BQ-F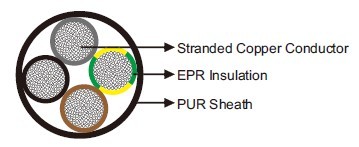 Application
These cables are used as power cables for high mechanical stresses, in particular for abrasion and grinding stresses, suitable for use in dry, damp and wet rooms and outdoors, for connecting electric tools and lamps also on construction sites.
Standards
HD 22.10 S1
Construction
Conductor: Stranded bare copper, class 5 according to HD 383.
Insulation: EPR compound type EI6.
Sheath: Polyurethane.
Technical Data
| | |
| --- | --- |
| Rated Voltage U0/U (Um) | 300/500V (H05BQ-F);450/750V (H07BQ-F) |
| Operating Temperatures | -40℃~+90℃ |
| Minimum Bending Radius | fixed: 4×OD; flexing: 6×OD |
Dimensions and Weight
H05BQ-F
| | | |
| --- | --- | --- |
| Construction | Nominal Overall Diameter | Nominal Weight |
| No. of cores×mm² | mm | kg/km |
| 2×0.75 | 6.6 | 50 |
| 3G0.75 | 7.2 | 60 |
| 4G0.75 | 7.8 | 80 |
| 5G0.75 | 8.8 | 100 |
| 2×1 | 7.1 | 60 |
| 3G1 | 7.5 | 70 |
| 4G1 | 8.2 | 90 |
| 5G1 | 9.2 | 110 |
H07BQ-F
| | | |
| --- | --- | --- |
| Construction | Nominal Overall Diameter | Nominal Weight |
| No. of cores×mm² | mm | kg/km |
| 2×1.5 | 8.7 | 90 |
| 3G1.5 | 9.2 | 110 |
| 4G1.5 | 10.3 | 130 |
| 5G1.5 | 11.3 | 170 |
| 2×2.5 | 10.3 | 120 |
| 3G2.5 | 11.0 | 160 |
| 4G2.5 | 12.3 | 200 |
| 5G2.5 | 13.6 | 250 |
| 2×4 | 12.2 | 170 |
| 3G4 | 12.9 | 230 |
| 4G4 | 14.5 | 280 |
| 5G4 | 16.0 | 360 |
| 2×6 | 13.5 | 220 |
| 3G6 | 14.6 | 300 |
| 4G6 | 16.2 | 380 |
| 5G6 | 17.9 | 470 |
| 2×10 | 17.8 | 380 |
| 3G10 | 19.1 | 520 |
| 4G10 | 21.1 | 650 |
| 5G10 | 23.2 | 800 |
| 2×16 | 20.4 | 540 |
| 3G16 | 22.1 | 750 |
| 4G16 | 24.2 | 950 |
| 5G16 | 26.9 | 1160 |
G: with green-yellow earth core
×: without green-yellow earth core