Windmill Cables
CY 300/500V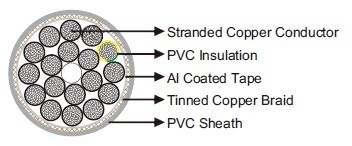 Application
These screened cables are designed for use as a data cable in control circuits, in tool-making and machine industries as well as a signal cable in computer systems and electronics. PVC inner sheath has been replaced in these cables by a stabilising foil separator, thus reducing the total diameter of the cables considerably and thereby reducing the bending radius, total weight etc.
Standards
DIN VDE 0245
Construction
Conductor: Stranded bare copper, class 5 according to DIN VDE 0295/IEC60228.
Insulation: PVC Type YI 2.
Separator: Al coated tape.
Screen: Tinned copper braid.
Sheath: PVC Type YM 2/TM 2.
Technical Data
| | |
| --- | --- |
| Rated Voltage Uo/U (Um) | 300/500V |
| Operating Temperatures | flexing: -15℃~+70℃; fixed: -40℃~+70℃ |
| Minimum Bending Radius | flexing: 20×OD; fixed: 10×OD |
| Flame Retardant | IEC 60332-1 |
| Ozone Resistant | Yes |
| Silicone Free | Yes |
| Lead Free | Yes |
Dimensions and Weight
| | | |
| --- | --- | --- |
| Construction | Nominal Overall Diameter | Nominal Weight |
| No. of coresGmm² | mm | kg/km |
| 2×0.5 | 5.4 | 45 |
| 3G0.5 | 5.8 | 53 |
| 4G0.5 | 6.3 | 63 |
| 5G0.5 | 6.7 | 76 |
| 6G0.5 | 7.2 | 87 |
| 7G0.5 | 7.3 | 107 |
| 8G0.5 | 7.7 | 109 |
| 12G0.5 | 9.2 | 140 |
| 18G0.5 | 10.2 | 179 |
| 25G0.5 | 13.3 | 256 |
| 2G0.75 | 6.0 | 54 |
| 3G0.75 | 6.3 | 65 |
| 4G0.75 | 6.8 | 77 |
| 5G0.75 | 7.3 | 91 |
| 6G0.75 | 7.8 | 102 |
| 7G0.75 | 7.8 | 115 |
| 8G0.75 | 8.3 | 137 |
| 12G0.75 | 10.1 | 177 |
| 18G0.75 | 11.6 | 250 |
| 25G0.75 | 13.9 | 326 |
| 34G0.75 | 15.6 | 406 |
| 50G0.75 | 19.0 | 576 |
| 2×1 | 6.2 | 60 |
| 3G1 | 6.5 | 73 |
| 4G1 | 7.0 | 89 |
| 5G1 | 7.6 | 105 |
| 6G1 | 8.2 | 110 |
| 7G1 | 8.4 | 139 |
| 8G1 | 9.0 | 157 |
| 12G1 | 10.4 | 207 |
| 18G1 | 12.4 | 295 |
| 25G1 | 14.9 | 384 |
| 34G1 | 16.6 | 530 |
| 50G1 | 19.6 | 1020 |
| 2×1.5 | 6.8 | 70 |
| 3G1.5 | 7.2 | 90 |
| 4G1.5 | 7.8 | 108 |
| 5G1.5 | 8.4 | 125 |
| 7G1.5 | 9.3 | 160 |
| 8G1.5 | 10.0 | 204 |
| 12G1.5 | 11.8 | 279 |
| 18G1.5 | 14.0 | 350 |
| 25G1.5 | 16.9 | 530 |
| 34G1.5 | 18.9 | 720 |
| 42G1.5 | 20.1 | 820 |
| 2×2.5 | 8.0 | 104 |
| 3G2.5 | 8.6 | 140 |
| 4G2.5 | 9.4 | 173 |
| 5G2.5 | 10.0 | 206 |
| 7G2.5 | 10.8 | 267 |
| 12G2.5 | 14.6 | 432 |
| 2×4 | 9.8 | 185 |
| 4G4 | 11.1 | 236 |
| 5G4 | 12.1 | 288 |
| 7G4 | 14.0 | 500 |
| 2×6 | 11.7 | 268 |
| 3G6 | 12.5 | 330 |
| 4G6 | 12.8 | 339 |
| 5G6 | 14.2 | 416 |
| 7G6 | 16.9 | 672 |
| 2×10 | 14.7 | 425 |
| 3G10 | 15.7 | 500 |
| 4G10 | 17.3 | 783 |
| 5G10 | 19.2 | 856 |
| 7G10 | 21.4 | 1305 |
| 4G16 | 20.8 | 880 |
| 5G16 | 22.6 | 1295 |
| 4G25 | 24.9 | 1570 |
| 5G25 | 27.8 | 1965 |
| 4G35 | 28.4 | 2070 |
| 5G35 | 31.6 | 2690 |
| 4G50 | 34.6 | 3015 |
G: with green-yellow earth core
×: without green-yellow earth core