Windmill Cables
(H)07RN-F HFFR & UL/CSA 600V 90°C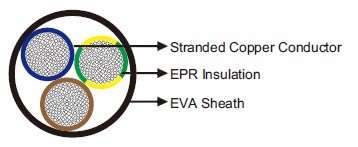 Application
These cables are designed for use at medium mechanical stresses in wind turbines. They can be used in case of protected and fixed installation in tubes or in equipment as well as rotor connecting cable of motors with a working voltage up to 1000 V alternating voltage or a direct voltage up to 750 V against ground.
Standards
HD 22.4
UL 758
Construction
Conductor: Stranded bare copper, fine wire class 5 according to DIN VDE 0295.
Insulation: EPR class 28.
Sheath: EVA.
Technical Data
| | |
| --- | --- |
| Rated Voltage Uo/U (Um) | 600V(UL/CSA) |
| Operating Temperatures | -40℃~+90℃ |
| Minimum Bending Radius | flexing: 6×OD; fixed: 4×OD |
| Short-circuit Temperature | 250℃ |
| Flame Retardant | EN 50265-2-1/IEC 60332-1 |
| Corrosive Gases | EN 50267-2 |
| Smoke Density | EN 50268-2 |
| Oil Resistant | Yes |
| UV Resistant | Yes |
Dimensions and Weight
| | | |
| --- | --- | --- |
| Construction | Nominal Overall Diameter | Nominal Weight |
| No. of cores×mm² | mm | kg/km |
| 1G25 | 13.9 | 420 |
| 1×50 | 17.8 | 790 |
| 1G95 | 22.4 | 1145 |
| 1×150 | 27.1 | 1845 |
| 1×240 | 32.1 | 2820 |
| 1×300 | 35.0 | 3390 |
| 3G1.5 | 9.8 | 165 |
| 3G2.5 | 11.5 | 227 |
| 3×25 | 27.5 | 1435 |
| 3×50 | 35.5 | 2598 |
| 3×70 | 41.0 | 3570 |
| 3×95 | 46.0 | 4510 |
| 3×240 | 70.5 | 10280 |
| 4G1.5 | 10.5 | 208 |
| 4G2.5 | 12.5 | 289 |
| 4G4 | 14.5 | 394 |
| 5G1.5 | 11.5 | 258 |
| 5G2.5 | 13.5 | 362 |
| 7G1.5 | 13.5 | 412 |
| 7G2.5 | 15.5 | 554 |
G: with green-yellow earth core
×: without green-yellow earth core