Submersible Pump Cables for Oil Industry
| | | | | |
| --- | --- | --- | --- | --- |
| | | | | |

Submersible Pump Cables Round Cables
284℉/140℃ EPDM/NBR Round Electrical Submersible Pump Cable

Applications
These cables are designed for transmitting power to the submersible motor in the oil industry, suitable for installed down well in the oil industry.
Standards
IEEE Std. 1018
API RP 11S5
API RP 11S6
Construction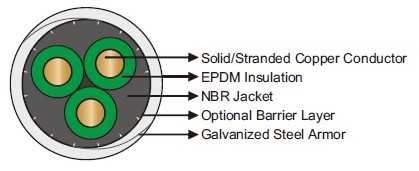 Conductor: Solid/stranded copper conductor.
Insulation: EPDM insulation.
Optional Barrier: Tape, braid, tape and braid, or extruded barrier, used for fluid protection and hoop strength.
Jacket: Oil-resistant nitrile rubber.
Armor: Galvanized steel.
Dimensions and Weight:
3KV
Cable Type

Conductor Size

Conductor O.D.

Insulation
Thickness

Overall O.D.

Weight

AWG

mm²

inches

mm

Inches

mm

Inches

mm

lbs/kft

kg/km

QYENY-140-3kV-3G10S

-

10

0.14

3.556

0.075

1.9

1.03

26.1

661

983

QYENY-140-3kV-3G6

6

13.3

0.162

4.115

0.075

1.9

1.09

27.8

763

1135

QYENY-140-3kV-3G16S

-

16

0.178

4.521

0.075

1.9

1.14

29.0

843

1254

QYENY-140-3kV-3G4

4

21.1

0.204

5.182

0.075

1.9

1.22

31.0

985

1465

QYENY-140-3kV-3G25S

-

25

0.222

5.639

0.075

1.9

1.27

32.3

1091

1623

QYENY-140-3kV-3G2

2

33.6

0.258

6.553

0.075

1.9

1.38

35.1

1323

1969

QYENY-140-3kV-3G1

1

42.4

0.289

7.341

0.075

1.9

1.47

37.4

1544

2298

QYENY-140-3kV-3G1/0

1/0

53.5

0.368

9.347

0.075

1.9

1.71

43.4

2197

3269

QYENY-140-3kV-3G2/0

2/0

67.4

0.414

10.516

0.075

1.9

1.84

46.8

2635

3922
5KV
Cable Type

Conductor Size

Conductor
O.D.

Insulation
Thickness

Overall O.D.

Weight

AWG

mm²

inches

mm

Inches

mm

Inches

mm

lbs/kft

kg/km

QYENY-140-5kV-3G10S

-

10

0.14

3.556

0.09

2.3

1.12

28.5

724

1077

QYENY-140-5kV-3G6

6

13.3

0.162

4.115

0.09

2.3

1.19

30.2

828

1232

QYENY-140-5kV-3G16S

-

16

0.178

4.521

0.09

2.3

1.24

31.4

910

1354

QYENY-140-5kV-3G4

4

21.1

0.204

5.182

0.09

2.3

1.31

33.4

1054

1568

QYENY-140-5kV-3G25S

-

25

0.222

5.639

0.09

2.3

1.37

34.7

1162

1729

QYENY-140-5kV-3G2

2

33.6

0.258

6.553

0.09

2.3

1.47

37.4

1397

2079

QYENY-140-5kV-3G1

1

42.4

0.289

7.341

0.09

2.3

1.57

39.8

1622

2413

QYENY-140-5kV-3G1/0

1/0

53.5

0.368

9.347

0.09

2.3

1.80

45.7

2281

3395

QYENY-140-5kV-3G2/0

2/0

67.4

0.414

10.516

0.09

2.3

1.94

49.2

2725

4055