Submersible Pump Cables for Oil Industry
| | | | | |
| --- | --- | --- | --- | --- |
| | | | | |

Submersible Pump Cables Round Cables
176℉/80℃ PP/HDPE Round Electrical Submersible Pump Cable

Applications
These cables are designed for transmitting power to the submersible motor in the oil industry, suitable for installed down well in the oil industry.
Standards
IEEE Std. 1019
API RP 11S5
API RP 11S6
Construction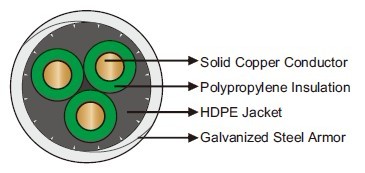 Conductors: Solid bare copper conductor with poly adhesive layer.
Insulation: Polypropylene insulation
Jacket: Integral HDPE jacket.
Armor: Galvanized steel armor.
Dimensions and Weight:
3KV
Cable Type

Conductor Size

Conductor O.D.

Insulation
Thickness

Overall O.D.

Weight

AWG

mm²

inches

mm

Inches

mm

Inches

mm

lbs/kft

kg/km

QYPHY-80-4kV-3G6

6

13.3

0.16

4.1

0.075

1.9

1.1

26.8

860
1280

QYPHY-80-4kV-3G4

4

21.1

0.20

5.1

0.075

1.9

1.1

29.1
1080
1607

QYPHY-80-4kV-3G2

2

33.5

0.26

6.6

0.075

1.9

1.3

32.6
1420
2113

QYPHY-80-4kV-3G1

1

42.4

0.29

7.4

0.075

1.9

1.3

33.8
1640
2440
4KV
Cable Type

Conductor Size

Conductor O.D.

Insulation
Thickness

Overall O.D.

Weight

AWG

mm²

inches

mm

Inches

mm

Inches

mm

lbs/kft

kg/km

QYPHY-80-4kV-3G6

6

13.3

0.16

4.1

0.08

2.1

1.1

27.7

900

1339

QYPHY-80-4kV-3G4

4

21.1

0.20

5.1

0.08

2.1

1.2

30.0

1120

1666

QYPHY-80-4kV-3G2

2

33.5

0.26

6.6

0.08

2.1

1.3

33.5

1460

2172

QYPHY-80-4kV-3G1

1

42.4

0.29

7.4

0.08

2.1

1.4

34.6

1680

2500
5KV
Cable Type

Conductor Size

Conductor O.D.

Insulation
Thickness

Overall O.D.

Weight

AWG

mm²

inches

mm

Inches

mm

Inches

mm

lbs/kft

kg/km

QYPHY-80-4kV-3G6

6

13.3

0.16

4.1

0.09

2.3

1.1

28.5
930
1384

QYPHY-80-4kV-3G4

4

21.1

0.20

5.1

0.09

2.3

1.2

30.9
1160
1726

QYPHY-80-4kV-3G2

2

33.5

0.26

6.6

0.09

2.3

1.4

34.3
1500
2232

QYPHY-80-4kV-3G1

1

42.4

0.29

7.4

0.09

2.3

1.4

35.5
1720
2559