Windmill Cables
PUR Sheathed, Screened, Halogen Free Data Cable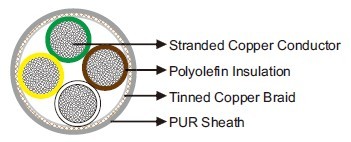 Application
These halogen free cables are used as drag chain cables for frequent and fast lifting and bending stresses in machines and tool building, robot systems and constantly moving machine components.
Standards
UL AWM Style 20233
CSA AWM I/II A/B
Construction
Conductor: Stranded bare copper, class 6 according to VDE 0295/BS 6360.
Insulation: Polyolefin.
Screen: Tinned copper wire braid.
Sheath: Full polyurethane sheath TMPU.
Technical Data
| | |
| --- | --- |
| Rated Voltage Uo/U (Um) | 300V |
| Operating Temperatures | flexing: -40℃~+80℃; fixed: -50℃~+80℃ |
| Minimum Bending Radius | flexing: 7.5×OD; fixed: 4×OD |
| Flame Retardant | VDE 0482-332-1-2/DIN EN 60332-1-2/IEC 60332-1 |
| Oil Resistant | Yes |
| Halogen Free | Yes |
| Ozone, Oxygen Resistant | Yes |
| Silicone Free | Yes |
| UV Resistant | Yes |
| Abrasion Resistance | Yes |
Dimensions and Weight
Construction

Nominal Overall Diameter

Nominal Weight

No. of cores×mm²

mm

kg/km

26AWG

2×0.14

4.3

32

3×0.14

4.6

35

4×0.14

4.8

40

5×0.14

5.1

45

7×0.14

5.8

66

10×0.14

6.8

86

12×0.14

7.4

94

14×0.14

7.4

102

18×0.14

7.8

118

24×0.14

8.8

149

25×0.14

9.2

156

24AWG

2×0.25

5.0

38

3×0.25

5.2

44

4×0.25

5.6

51

5×0.25

5.9

68

7×0.25

6.8

82

10×0.25

8.3

110

12×0.25

8.4

124

14×0.25

8.9

135

18×0.25

9.5

150

24×0.25

10.8

194

25×0.25

11.3

204

22AWG

2×0.34

5.4

45

3×0.34

5.7

60

4×0.34

6.0

76

5×0.34

6.5

82

7×0.34

7.7

110

10×0.34

9.1

148

12×0.34

10.0

166

14×0.34

10.0

185

18×0.34

10.6

216

24×0.34

12.1

291

25×0.34

12.8

305