Windmill Cables
PUR Sheathed, Halogen Free CAN BUS 2×2×0.22mm2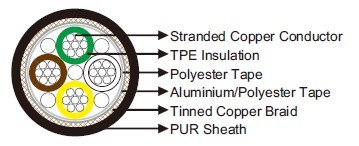 Application
These cables with its oil-resistant PUR sheath and increased temperature resistance are employed in the wind turbine area and similar sectors for monitoring wind speed, temperature and performance parameters.
Standards
ISO 11898-2
Construction
Conductor: Stranded bare copper 7×0.203 mm (Section 0.22 mm²)
Insulation: TPE compound.
Center Filler: Fibrillated polypropylene ller.
Cable Element: Star quad.
Screen 1: Polyester tape over stranded bundle.
Screen 2: Aluminium/Polyester tape (Aluminium outside).
Overall Screen: Tinned copper braid.
Sheath: PUR compound.
Technical Data
| | |
| --- | --- |
| Operating Temperatures | -25℃~+100℃ |
| Minimum Bending Radius | flexing: 10×OD; fixed installation: 5×OD |
| Impedance | 120Ohm +/-15% |
| Maximum Conductor Resistance @20°C | 98Ohm/km |
| Nominal Mutual Capacitance | 41nF/km |
| Minimum Insulation resistance | 1GOhm×km |
| Flame Retardant | EN 50265-2-1/IEC 60332-1 |
| Halogen Free | HD22.13/EN50267-1/IEC 60754 |
| Gases Corrosively | HD22.13/EN50267-2/IEC 60754 |
| Smoke Density | EN50268/IEC 61034 |
| Oil Resistant | Yes |
| Ozone Resistant | Yes |
| UV Resistant | Yes |
Dimensions and Weight
| | | |
| --- | --- | --- |
| Construction | Nominal Overall Diameter | Nominal Weight |
| No. of cores×mm² | mm | kg/km |
| 2×2×0.22 | 6.4 | 60 |