Windmill Cables
I-V2Y(ZN)11Y/I-V2Y(ZN)2Y POF Breakout Cable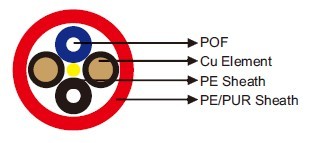 Application
These flexible and robust cables are used in mechanical engineering, both in mobile and fixed applications, suitable for applications where trouble-free data transmission in necessary under heavyduty conditions.
Standards
DIN VDE 0888
IEC 60794
Construction
Fibre Type: POF 980/1000.
Strain Relief: Aramid yarns.
Break-out Unit Sheath: PE.
Outer Sheath: PE/PUR.
Optional Element: Copper element or dummy element.
Technical Data
| | |
| --- | --- |
| Operating Temperatures | -20℃~+80℃ |
| Minimum Bending Radius | 30~95mm depend on cable construction |
| Oil Resistant | Yes |
Dimensions and Weight
Construction

Copper Element

Core/Cladding
Diameter

Nominal Overall
Diameter

Nominal Weight

No. of POF element

No. of cores×mm²

μm

mm

kg/km

1

-

980/1000

5.8

30

2

-

980/1000

6.0

36

4

-

980/1000

7.1

65

2

2×1

980/1000

7.8

60

2

3×1.5

980/1000

11.0

132

4

19×1

980/1000

16.0

440