Windmill Cables
LiYY Data Cable UL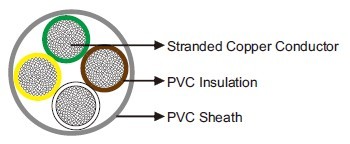 Application
These data cables are designed for use as measuring and control cables in tool making machinery conveyor system and production lines, in industrial plants and in air conditioning as well as in the steel producing industries.
Standards
UL Style 2464
UL Style 1061/1729
UL Style 1007/1569
Construction
Conductor: Stranded tinned copper, according to ASTM-B.
Insulation: PVC class 43.
Sheath: PVC class 43.
Technical Data
| | |
| --- | --- |
| Rated Voltage Uo/U (Um) | 300V |
| Operating Temperatures | flexing: -10℃~+80℃; fixed: -20℃~+80℃ |
| Minimum Bending Radius | flexing: 15×OD; fixed: 6×OD |
| Flame Retardant | UL VW-1/CSA FT-1 |
| Oil Resistant | Yes |
| Silicone Free | Yes |
Dimensions and Weight
Construction

Nominal Overall Diameter

Nominal Weight

No. of cores×mm²

mm

kg/km

26AWG

2×0.14

3.6

13

3×0.14

3.7

15

4×0.14

4.0

18

6×0.14

4.6

25

10×0.14

5.6

38

12×0.14

5.8

46

16×0.14

6.3

56

18×0.14

6.6

62

24×0.14

7.5

82

27×0.14

7.8

97

30×0.14

8.1

110

24AWG

2×0.23

3.8

16

3×0.23

4.0

19

4×0.23

4.2

23

6×0.23

4.9

32

10×0.23

6.0

55

12×0.23

6.1

60

16×0.23

6.7

75

18×0.23

7.1

82

24×0.23

8.2

116

27×0.23

8.5

140

30×0.23

8.8

150

22AWG

2×0.34

4.2

25

3×0.34

4.3

30

4×0.34

4.6

45

6×0.34

5.5

60

10×0.34

6.8

80

12×0.34

7.0

105

16×0.34

7.8

130

18×0.34

8.3

140

24×0.34

9.6

190

27×0.34

10.0

207

30×0.34

10.5

225

20AWG

2×0.56

4.6

30

3×0.56

4.8

33

4×0.56

5.2

41

6×0.56

6.1

65

10×0.56

7.6

102

12×0.56

8.0

120

16×0.56

8.8

152

18×0.56

9.4

168

24×0.56

11.0

224

27×0.56

11.3

260

30×0.56

11.8

300

18AWG

2×0.82

6.1

50

3×0.82

6.4

62

4×0.82

6.9

72

6×0.82

8.1

100

10×0.82

10.4

180

12×0.82

10.9

182

16×0.82

12.2

240

18×0.82

13.0

270

24×0.82

15.2

370

27×0.82

15.8

400

30×0.82

16.3

470

16AWG

2×1.3

6.9

70

3×1.3

7.3

90

4×1.3

7.9

110

6×1.3

9.6

160

10×1.3

12.4

250

12×1.3

12.8

300

16×1.3

14.6

400

18×1.3

15.5

450

24×1.3

18.1

650

27×1.3

18.7

680

30×1.3

19.5

750