Windmill Cables
LiYCY Data Cable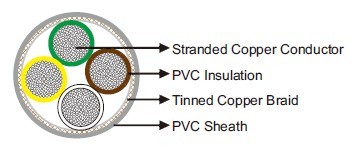 Application
These screened cables are designed for special purpose of data transmission in wind turbines, suitable for in dry, moist and wet rooms.
Standards
DIN VDE 0245, 0812
Construction
Conductor: Stranded bare copper, class 5 according to DIN VDE 0295/IEC60228.
Insulation: PVC type TI2.
Drain Wire: Tinned copper conductor.
Screen: Tinned copper wire braid.
Sheath: PVC type TM2.
Technical Data
| | |
| --- | --- |
| Rated Voltage Uo/U (Um) | 350V |
| Operating Temperatures | flexing: -5℃~+80℃; fixed: -30℃~+80℃ |
| Minimum Bending Radius | flexing: 10×OD; fixed: 5×OD |
| Flame Retardant | VDE 0482-332-1-2/DIN EN 60332-1-2/IEC 60332-1 |
| Oil Resistant | Yes |
| Silicone Free | Yes |
Dimensions and Weight
| | | |
| --- | --- | --- |
| Construction | Nominal Overall Diameter | Nominal Weight |
| No. of cores×mm² | mm | kg/km |
| 1×2×0.14 | 3.5 | 34 |
| 2×2×0.14 | 5.6 | 40 |
| 3×2×0.14 | 5.6 | 49 |
| 4×2×0.14 | 6.0 | 55 |
| 5×2×0.14 | 6.7 | 66 |
| 6×2×0.14 | 7.2 | 86 |
| 7×2×0.14 | 7.2 | 91 |
| 8×2×0.14 | 8.4 | 97 |
| 10×2×0.14 | 9.1 | 109 |
| 12×2×0.14 | 9.2 | 141 |
| 14×2×0.14 | 9.9 | 148 |
| 15×2×0.14 | 10.4 | 152 |
| 16×2×0.14 | 10.4 | 155 |
| 18×2×0.14 | 11.0 | 171 |
| 20×2×0.14 | 11.5 | 183 |
| 22×2×0.14 | 12.3 | 205 |
| 24×2×0.14 | 12.3 | 228 |
| 25×2×0.14 | 12.5 | 239 |
| 26×2×0.14 | 12.5 | 245 |
| 27×2×0.14 | 12.5 | 251 |
| 28×2×0.14 | 13.7 | 258 |
| 30×2×0.14 | 13.7 | 270 |
| 32×2×0.14 | 14.2 | 284 |
| 34×2×0.14 | 14.7 | 300 |
| 36×2×0.14 | 14.9 | 316 |
| 38×2×0.14 | 15.6 | 350 |
| 40×2×0.14 | 16.1 | 370 |
| 44×2×0.14 | 16.8 | 390 |
| 46×2×0.14 | 17.0 | 430 |
| 50×2×0.14 | 17.7 | 440 |
| 52×2×0.14 | 17.7 | 460 |
| 55×2×0.14 | 18.2 | 480 |
| 1×2×0.25 | 4.1 | 45 |
| 2×2×0.25 | 6.3 | 53 |
| 3×2×0.25 | 6.6 | 65 |
| 4×2×0.25 | 7.0 | 80 |
| 5×2×0.25 | 7.8 | 98 |
| 6×2×0.25 | 8.6 | 114 |
| 7×2×0.25 | 8.6 | 121 |
| 8×2×0.25 | 9.8 | 129 |
| 10×2×0.25 | 11.0 | 157 |
| 12×2×0.25 | 11.2 | 189 |
| 14×2×0.25 | 12.2 | 213 |
| 15×2×0.25 | 12.8 | 225 |
| 16×2×0.25 | 12.8 | 237 |
| 18×2×0.25 | 13.5 | 248 |
| 20×2×0.25 | 14.1 | 275 |
| 22×2×0.25 | 14.9 | 303 |
| 24×2×0.25 | 15.3 | 330 |
| 25×2×0.25 | 15.5 | 343 |
| 26×2×0.25 | 15.5 | 345 |
| 27×2×0.25 | 15.5 | 350 |
| 28×2×0.25 | 17.0 | 360 |
| 30×2×0.25 | 17.0 | 375 |
| 32×2×0.25 | 17.6 | 400 |
| 34×2×0.25 | 18.2 | 410 |
| 36×2×0.25 | 18.2 | 420 |
| 38×2×0.25 | 19.0 | 450 |
| 40×2×0.25 | 19.7 | 485 |
| 44×2×0.25 | 20.5 | 500 |
| 46×2×0.25 | 20.7 | 540 |
| 50×2×0.25 | 21.5 | 550 |
| 52×2×0.25 | 21.5 | 580 |
| 55×2×0.25 | 22.1 | 630 |
| 1×2×0.34 | 5.4 | 58 |
| 2×2×0.34 | 7.0 | 65 |
| 3×2×0.34 | 7.3 | 78 |
| 4×2×0.34 | 8.1 | 90 |
| 5×2×0.34 | 8.8 | 110 |
| 6×2×0.34 | 9.8 | 130 |
| 7×2×0.34 | 9.8 | 145 |
| 8×2×0.34 | 11.2 | 150 |
| 9×2×0.34 | 12.6 | 170 |
| 10×2×0.34 | 12.6 | 190 |
| 12×2×0.34 | 12.8 | 220 |
| 14×2×0.34 | 13.3 | 245 |
| 16×2×0.34 | 14.3 | 250 |
| 18×2×0.34 | 15.2 | 275 |
| 21×2×0.34 | 15.9 | 300 |
| 25×2×0.34 | 17.5 | 400 |
| 27×2×0.34 | 17.5 | 410 |
| 30×2×0.34 | 19.1 | 440 |
| 34×2×0.34 | 20.8 | 510 |
| 37×2×0.34 | 21.5 | 550 |
| 40×2×0.34 | 22.4 | 590 |
| 44×2×0.34 | 23.6 | 600 |
| 50×2×0.34 | 24.8 | 650 |
| 52×2×0.34 | 24.8 | 680 |
| 56×2×0.34 | 25.4 | 750 |
| 61×2×0.34 | 26.2 | 840 |
| 1×2×0.5 | 4.9 | 60 |
| 2×2×0.5 | 7.8 | 89 |
| 3×2×0.5 | 8.2 | 104 |
| 4×2×0.5 | 9.1 | 126 |
| 5×2×0.5 | 9.9 | 148 |
| 6×2×0.5 | 10.7 | 171 |
| 8×2×0.5 | 12.8 | 290 |
| 10×2×0.5 | 14.0 | 320 |
| 12×2×0.5 | 14.3 | 361 |
| 16×2×0.5 | 16.1 | 421 |
| 20×2×0.5 | 17.2 | 580 |
| 25×2×0.5 | 17.9 | 740 |
| 1×2×0.75 | 5.2 | 71 |
| 2×2×0.75 | 8.4 | 105 |
| 3×2×0.75 | 8.9 | 128 |
| 4×2×0.75 | 9.8 | 156 |
| 5×2×0.75 | 10.8 | 189 |
| 6×2×0.75 | 12.1 | 216 |
| 8×2×0.75 | 13.4 | 309 |
| 10×2×0.75 | 15.5 | 355 |
| 12×2×0.75 | 15.8 | 405 |
| 16×2×0.75 | 18.0 | 565 |
| 20×2×0.75 | 19.2 | 700 |
| 25×2×0.75 | 21.8 | 950 |
| 1×2×1 | 5.3 | 75 |
| 2×2×1 | 8.9 | 116 |
| 3×2×1 | 9.4 | 140 |
| 4×2×1 | 10.4 | 191 |
| 1×2×1.5 | 5.8 | 84 |
| 2×2×1.5 | 10.2 | 122 |
| 3×2×1.5 | 10.8 | 194 |
| 4×2×1.5 | 12.0 | 240 |