Windmill Cables
Halogen Free Grounding Cable 0.6/1 kV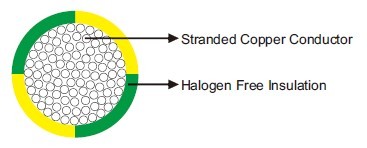 Application
These cables with reduced fire hazard and higher safety performance are designed for control and power systems, used as connecting cable for earthing or grounding of trays, cubicle and other conductive parts.
Standards
DIN VDE 0295
Construction
Conductor: Stranded bare copper, class 5/class 2 according to IEC 60228.
Insulation: Halogen free compound HM4 according to IEC 60092-353.
Technical Data
| | |
| --- | --- |
| Rated Voltage Uo/U (Um) | 0.6/1kV |
| Operating Temperatures | flexing: -5℃~+85℃; fixed: -35℃~+85℃ |
| Minimum Bending Radius | flexing: 16×OD; fixed: 8×OD |
| Flame Retardant | IEC 60332-3 Cat. A |
| Halogen Free | IEC 60754 |
| Gases Corrosively | IEC 60754 |
| Smoke Density | IEC 61034 |
| Ozone Resistant | Yes |
| Silicone Free | Yes |
Dimensions and Weight
Construction

Nominal Overall Diameter

Nominal Weight

No. of cores×mm²

mm

kg/km

Class 2 Stranded

1G1.5

2.9

20

1G2.5

3.3

31

1G4

3.8

46

1G6

4.4

68

1G16

6.2

169

1G25

7.9

264

1G35

8.9

364

1G50

10.3

516

1G70

12.2

720

1G95

14.0

967

1G120

15.8

1220

Class 5 Stranded

1G6

4.4

68

1G10

5.4

109

1G16

6.6

170

1G25

8.4

266

1G70

12.7

728