Windmill Cables
Al Conductor EPR/XLEVA 0.6/1KV LSOH Power Cable 90 ℃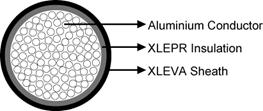 Application
These durable, high temperature resistant LSOH cables are designed for wind turbines and dedicated for fixed installation inside the tower.
Standards
IEC 60502-1
Construction
Conductor: Aluminium conductor, class 2 according to IEC 60228/EN 60228.
Insulation: Special cross-linked halogen free rubber EPR for high temperatures.
Sheath: Special cross-linked synthetic halogen free rubber EM8 (XLEVA). CPE can be offered upon request.
Technical Data
| | |
| --- | --- |
| Rated Voltage Uo/U (Um) | 0.6/1kV |
| Operating Temperatures | -40℃~+ 90℃ |
| Minimum Bending Radii | 6×OD |
| Maximum Permissible Tensile Load | 15N/mm² |
| Short-circuit Temperature | 250℃ |
| Flame Retardant | IEC 60332-1/ IEC 60332-3 |
| Halogen Free | IEC 60754 |
| Corrosive Gases | IEC 60754 |
| Smoke Density | IEC 61034 |
| Oil Resistant | Yes |
| Ozone Resistant | Yes |
| UV Resistant | Yes |
| Water Resistant | Yes |
Dimensions and Weight
| | | |
| --- | --- | --- |
| Construction | Nominal Overall Diameter | Nominal Weight |
| No. of cores×mm² | mm | kg/km |
| 1×150 | 22.5 | 640 |
| 1×185 | 25.0 | 770 |
| 1×240 | 27.8 | 980 |
| 1×300 | 30.5 | 1210 |
| 1×400 | 35.5 | 1550 |